Automatic hand sanitizer dispenser
Automaattinen käsidesin annostelija
Tiskille tai pöydälle sopiva siro automaattinen käsidesinannostelija, jossa on liiketunnistin, annostelijaan ei tarvitse siis koskea.
Annostelijan säiliöön menee nestettä 2,8 dl. Kerta-annostelumäärää saa säädettyä annostelijan päällä olevista (on/+ ja off/-) painikkeista.
Korkeus: 18,5 cm
Halkaisija: 7 cm
Syvyys: 11 cm
Virranlähde: 4 kpl AAA-paristoja (eivät kuulu pakettiin)
Takuu: 1 vuosi
Voidaan käyttää myös nestemäisen saippuan annosteluun.
Automatic hand sanitizer dispenser

A sleek automatic hand dispenser with a motion sensor suitable for a counter or table then does not need to be touched. 2.8 dl of liquid goes into the dispenser's tank. The number of single doses can be obtained from the (on / + and off / -) buttons on the top of the dispenser. 
Dimensions
Height: 18.5 cm 
Diameter: 7 cm 
Depth: 11 cm 
Power source: 4 AAA batteries (not included) 
Warranty: 1 year 
Can also be used to dispense liquid soap.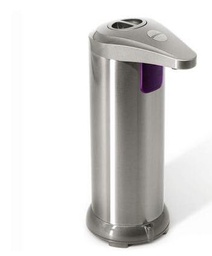 Automatic hand sanitizer dispenser